Monday, July 25
We got up this morning around 8:30 and moseyed to the kitchen for a wonderful breakfast Connie fixed!  We all sat at the kitchen table talking about so many things….how they met was a story I hadn't heard and really enjoyed!  Connie also told me a couple things about my Daddy I hadn't heard.  Connie is the middle child of the 3 siblings.  Virginia is the first born and Daddy is the baby.  Enjoyed some insights about my Daddy as a teenager!
I figured we would probably be on the road around 11.  Silly me!  Tim noticed around 12:15 what time it was and we hadn't hit the showers or packed our stuff up.  So after we got ready and took some crazy pictures of the 4 of us, we left Connie and Paul's house.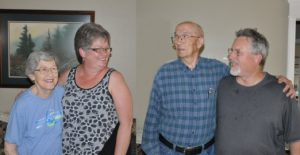 We will have to make this visit happen again in the future!  Such a wonderful time together!  We left their home around 1pm.
Tim is driving once again….I think at this point we have put about 7200 miles on the car since Father's Day.  And I bet Tim has driven about 80% of those miles! 
He found a very interesting BBQ place called Papa's BBQ. I saw a billboard along the interstate and took a chance. It was in the little town of Okemah, Oklahoma. Their cheese and macaroni reminded me of how I make mine….loved that!  The pulled pork reminded me of how Tim's last smoking job turned out!  So we had a wonderful lunch!  We forgot to take pictures when the food came out, but you can see how much we enjoyed what we had!!!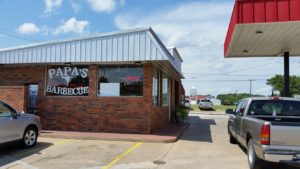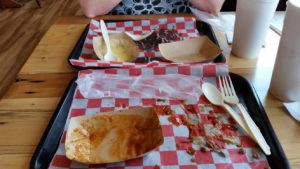 We are about 4 hours from Fairfield Bay.  Mom had mentioned something about the road being like a rollercoaster and she wished she could be in the car when we got to that point.  Well… We had a choice of two ways to come into this resort…we chose the west entrance.  There were some crazy curves and turns and some rollercoaster type roads.  The worst thing about this is you feel you are on top of a mountain and there is some of the craziest lightning I believed I have ever experienced in my entire life.  We are hoping that when we get to the resort, it won't be pouring…..and we don't get struck by lightning!
We pull up to the registration office and there is a car with people in it beside us.  The office looks dark.  I think 'uh oh….I forgot to call before we got here.'  The ONE place that didn't have a 24-hour registration desk and we got there about 15 minutes after the office closed.  So we are getting ready to call and this lady gets out of her car saying she had called and someone was on the way. (The sign gave the number to call — it was the police department. A head scratcher…)Tim is sitting down on a bench and I am in a rocking chair enjoying that!  After about 5 minutes, the receptionist, Robin, shows up, unlocks the front door and turns on some lights. She takes care of the other family first.  Then it is our turn.  My favorite line of hers is something like "I wish I could see everyone's face when you go down the rollercoaster road."  I'm thinking 'we just did that and I don't really think I want to do that again..'  So we finally get headed to the condo. But we are turning to the left instead of turning to the right…(the direction we came in). Almost immediately…the hill!  And yes!!  The road is EXACTLY like a rollercoaster at one point.  It goes down at such an angle, you can't see the bottom.  That was a little more exciting than I expected….but Tim's "woooooo!" told me he was enjoying driving it!
We got to the unit and had to haul things up a flight.  No elevator.  We got into the unit and it's a beautiful 2BR/2Bath condo.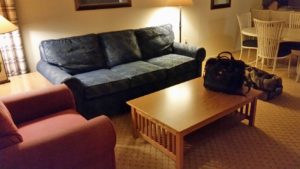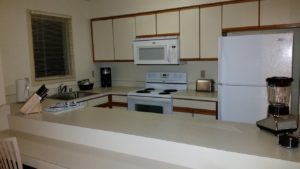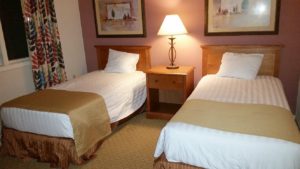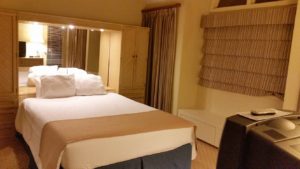 Have no idea what is outside our windows or the deck off the den or bedroom, but I guess we will figure that out tomorrow.  We will have stayed at 8 different Wyndham properties on this trip.  Each one has its own personality and its own story to tell.  We are so spoiled.
Mom had told us to make sure to come with food because this place is a few miles from restaurants and grocery stores.  I remembered we had hot dogs in the cooler we could eat for supper.  Funny part was that bag I thought was dirty clothes that I threw in the back with all the suitcases, etc., was actually a bag with some buns and some Dave's Bread in it.
I don't know if I have ever seen 4 flatter hot dog buns in my life! They still worked!
THAT was a picture we should have taken!