Tuesday, June 28
This morning we walked 20 feet down the hall to the Executive Lounge to be greeted by Kiana and a wonderful breakfast bar! 
After breakfast the bellman, Doug, was at our door ready to take our bags for us.  He was so knowledgeable about the history of Union Station. (He had been there since the early 80's) We probably talked/listened to him for almost 30 minutes. (while our luggage waited on the cart by our car) 
We had run out of time to do the Gateway Arch, but were so happy to find someone with so much history to share, it didn't matter!  (We took some snapshots as we went by, along with a few of the Cardinal's baseball stadium) Tonight's stop….Hays, Kansas! (We chose Hays to break up what would be a very long haul.)
We went forth from St. Louis to cross the geographically flat state of Missouri. It was a lot like driving I-10 along the Florida panhandle, only longer.
Our lunch stop was at a hole-in-the-wall place that actually presidents and presidential candidates had visited for some Kansas City BBQ.  Rocky had told us about Arthur Bryant's (Which is one of the original Kansas City Barbecue joints.) and we tried their BBQ.  Very good….very filling!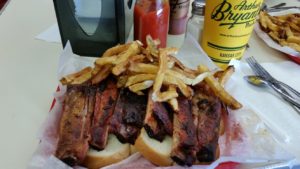 Driving across Kansas can be boring…it is flat…and sometimes it seems like there is nothing to really look at.  But there is a definite beauty in everything around us! (Actually, there are some beautiful, green rolling hills in Eastern Kansas, but then it became pretty flat.) We got tickled at a couple of the billboards with Wizard of Oz references!  It did take a second to put it together… Lots of wind farms with so many turbines.  I don't know why they fascinate me.
We get to Hays later than we originally planned.  We went for a late drive-thru at McDonalds.  The manager asked us if we were from Ocala…he had seen our license plate.  Then we found out he had a friend graduate from Citrus in 2005!  Small world! 
To bed tonight with the weather channel saying we might get to encounter high winds, heavy rain and hail.