Saturday, July 23
This morning we headed to Mike's Kitchen across the street from the Worldmark/Wyndham condo we are staying at….this was a recommendation from Darrin last night when we arrived.  Got there a little after 10 and had to wait awhile.  This place has a line waiting outside the entire time we are there!  I got a basic breakfast (eggs, ham, hashbrowns) and Tim had a Spanish Style burrito.   The food was amazing, and we totally understood the wait and the line outside!  They also have a bakery here, so we got a cinnamon roll and some donuts to take back to the condo. Unfortunately, there are no photographs because Kim and I let our phone batteries die overnight.
We left the condo around noon and headed to Taos Pueblo. The adobe structures in this city/nation are considered one of the oldest continuously inhabited communities in the United States–over 1000 years. There are areas that are off-limits because people are still living in the houses. Many of the lower structures have been converted to craft and food shops.  It was interesting learning about the tribe here in Taos and how they lived years ago.  We were able to walk around through the Pueblo and enter some of the 'homes' where people were selling jewelry, food, and various works of art.  I was amazed you weren't pressured in these places.  They were small inside and very warm.  There was one home/shop called the Dancing Hummingbird.  There were hummingbirds at a feeder outside their door.  I hope my pictures turned out ok!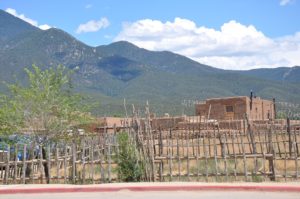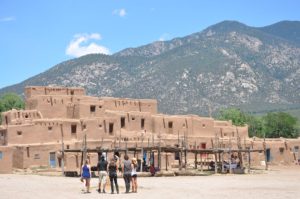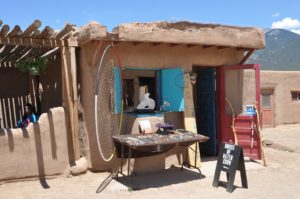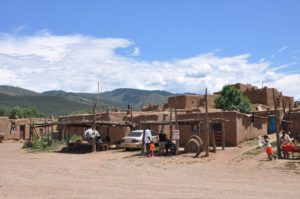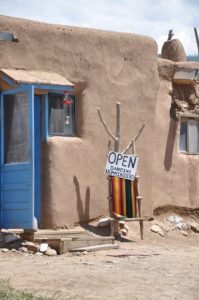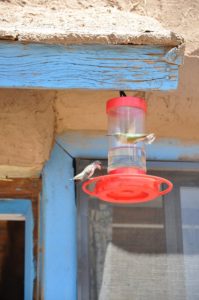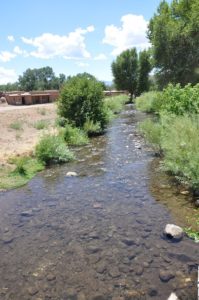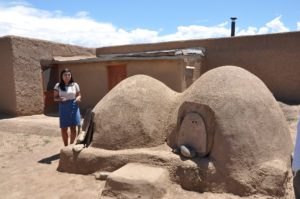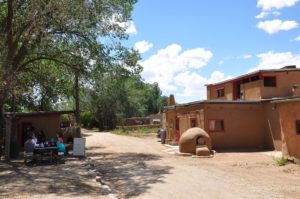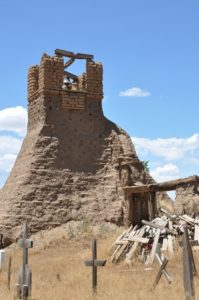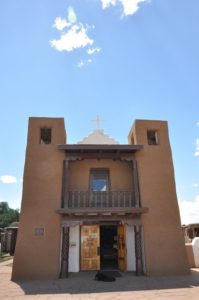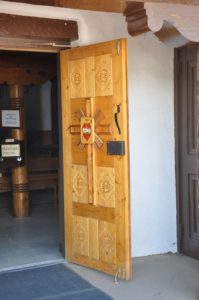 When we left the Pueblo, we headed to the Rio Grande Gorge suspension bridge.  To be honest, I wasn't really looking forward to this one little bit.  The trip there is, of course, so beautiful.  Then we see the bridge area.  Actually saw the gorge first!  I was shocked that the suspension system was actually under the road.  I was expecting to see a more typical looking bridge.  This was like driving across a regular road.  You can't see into the gorge area while you are driving.  There is a railing along the side.  So we went to the rest area, parked there, and walked across the bridge a bit.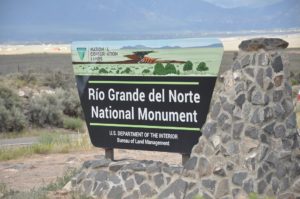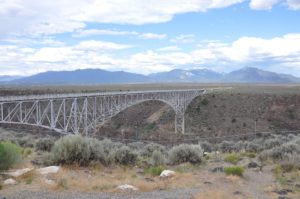 For some reason driving across something like that makes me crazy nervous.  BUT….I can walk across it without any problem.  I think Mom would say right now something about crossing a bridge when she was pregnant with me and that must be the reason I hate driving on bridges so!
We met a couple with two young kids and offered to take their picture for them…..right after he had taken his phone out of his pocket to watch a $20 bill just glide ever so gently into the gorge.  It was so sad.  He offered to take our picture and then laughed and said 'now you saw what happened a minute ago when I got my camera…'  So he at least had maintained his sense of humor.  The breeze here is wonderful and it is just so beautiful and comfortable.  I was so happy I didn't wimp out on this!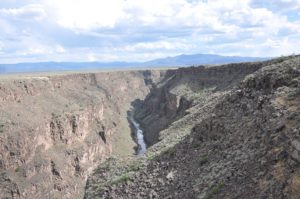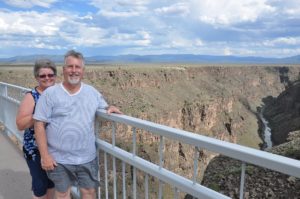 Our next thing on our schedule was to head to the fiesta in the Taos Plaza downtown.  I believe this is the third market/crafts activity we have seen so far on our trip!  I found some jewelry that is coming home with me.  Interesting working with people who want to talk you down on the price so they can sell things.  I personally hate trying to do that, so I just stood there with a "I'm not sure if I really want this" look.  He had two items in a bag for me and managed to give me a price I could live with!  Tim just smiled.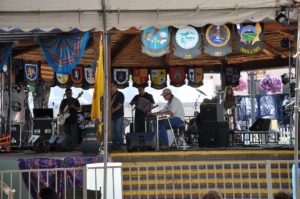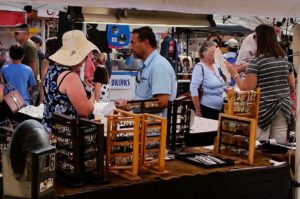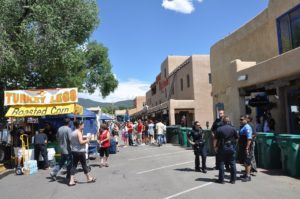 I really like a lot of the artsy items outside the stores on the main street here.  I could get in a lot of trouble if I lived here.  I still have one item I really want to take home, but I guess the car is probably too packed to get it.  I still have some major tetris skills I have used when packing this car….
Tonight we went to an authentic "just like eating at home with my Mom" restaurant according to Darrin.  Tim had a stuffed sopapilla.  I went the American menu route and got pork chops.  We both thoroughly enjoyed our meals and made it back to the condo around 8.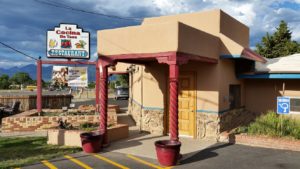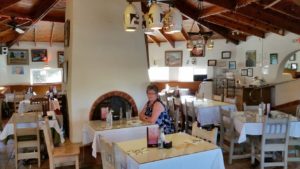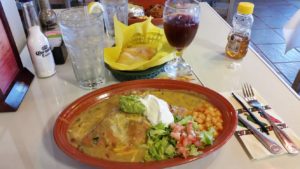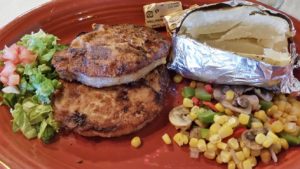 The skies have looked like they will open up and just pour since around 3 this afternoon.  Still no rain.  I think it's 50% chance tomorrow.  Probably when we start loading the car!
We are heading to Edmond, OK in the morning to visit and spend the night with my aunt and uncle (Connie and Paul).  I am hoping we will be seeing Beth and her family tomorrow too!  I think the last time I saw Beth was at my Grandmother's funeral before Jill was born.  That has been so long ago!  We are looking forward to spending time with all of them before we continue our trek home.
Oh my.  Only 5 more days til we are home.  We left on Father's Day, June 19, and should be pulling into our driveway late next Thursday night.  This has truly been the trip of a lifetime, and we are constantly thankful to Mom and Dad for giving us this opportunity! 
We have decided we MUST head to bed before 3am here!  Stayed up way too late last night.  Long day on the road tomorrow!