June 19-22, 2016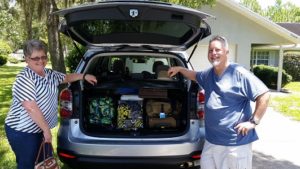 The first leg of our trip is one we can almost do blindfolded—Inverness to West Knoxville (where I spent my youth from 3rd grade through high school, and where my parents still live) and Sevierville, where Kim's parents live. I've been traveling I-75 to my hometown for holidays and breaks for 35 years now—woof!
We left Inverness on Sunday after church. We knew the trip would be about 12 hours, with food and pee breaks. Even though we knew it was going to be a late arrival, we took the time to have lunch at Beef O'Brady's with Phil before leaving town. Taking turns at the wheel about every 125 miles or so, we reached the half-way point of Macon, Georgia around 8:00—dinner time.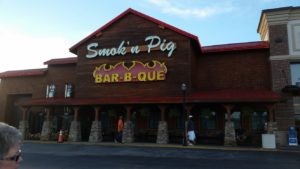 There are several decent restaurants near I-275, but one of our favorites is the Smok'n Pig located in what's left of the Macon Mall. This is a sister store to the Smok'n Pig in Valdosta which has been a frequent stop on previous trips. The restaurant features huge portions of excellent ribs, a nice salad bar, 2 sides and a dessert bar, all for a reasonable price (and often necessitating a doggie bag). Even though it was nearing their 9:00 closing time, the place was packed and the kitchen was a little backed up. The stop took us an hour, which is a little longer than we like, but we both decided we'd get there when we'd get there. No worries.
One of the rules when we drive, by the way, is whoever is driving controls the entertainment system. I prefer listening to oldies channels on the SiriusXM radio, flipping stations to find the best song of the moment, which I know drives Kim crazy, but it keeps me awake. Sometimes I'll bring a book on CD which can really make the trip zip by.
We arrived at my parent's house in West Knoxville just shy of 2:00 am, unloaded what we needed, and hit the hay. We had each had decent sleep in the car, so it wasn't too much of a hardship to wake up early.
It was a special treat that my sister, Alice, could join us for the day. She had taken the day off from her Nurse Practitioner job to spend the day with us. After a quick trip to Oak Ridge and a pleasant breakfast at a place called "The Egg and I", we relaxed on the deck or in the living room.
Dad cooked up a mess of beans and cornbread and we reminisced until very late. Alice had to work on Tuesday, but came by later that evening.
On Wednesday, we had surprise visit from my niece Caroline, who took some time off from one of her three jobs to join us for lunch. Caroline is a rising senior at my alma-mater, Maryville College, and is basically a whirling dervish on campus. She was recently elected president of her Senior Class. My brother Tom and my sister-in-law Rhonda (as well as the rest of the family, of course) have been popping lots of shirt buttons throughout her college career. For lunch, Kim and I picked up Buddy's Barbecue for us all and brought it back to the house.
Around 4:00, we said our goodbyes and pointed the car to the mountains and Sevierville.