Tuesday, July 5
Last full day in Las Vegas
We got up this morning and started updating our blog.  Tim has the wonderful job of choosing what 3-10 pictures to post out of at least 400 I have taken at each stop along the way…..bless his heart! 
After feeling just overwhelmed about trying to find a place for an early lunch, we decide to find an In-n-Out for what has been advertised as a good burger.  We are about half a mile from Wyndham, and Tim sees a German restaurant on the right. (The Hofbrauhaus of Las Vegas) "German it is then!"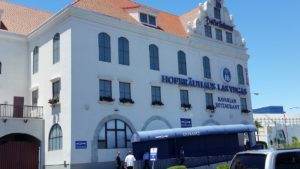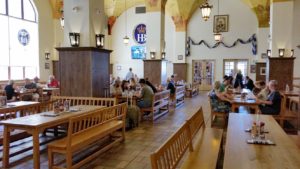 The restaurant is so very interesting.  There is a beer garden at the back of the restaurant for larger parties and functions.  We started off with the fresh baked pretzels.  Tim had something I can't pronounce or remember how to spell, but he enjoyed it a lot! (Some sort of fried pork schnitzel on spatzle mit gravy) I went the more plain Gertrude route and did a plain chicken cutlet (schnitzel).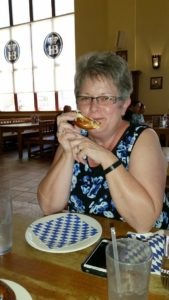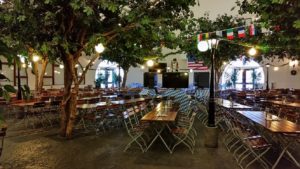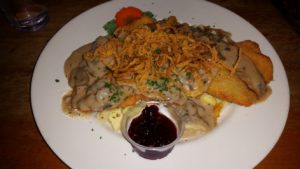 After lunch we find Fremont Street so we will know where we are headed tonight.  There is a giant fire spraying praying mantis right outside the entrance (thank you roadsideamerica.com).  Hope we manage to see it shoot fire tonight!
The car lets us know it needs sustenance too….we find a Costco and get in line for gas.  I don't know if I have ever seen a little person other than on TV.  He was in front of us was pumping his gas.  The Costco attendant was speaking with him and was there being ready to help him if he needed it.  It just warms your heart to see people doing acts of kindness for each other.
On the way back to the condo, we stopped at a very large souvenir shop on the Strip.  I don't know if I have ever seen a place this well stocked! We decided to hit In-N-Out tonight.  It was amazing how efficient this place is!  Pretty good burgers and very decent prices.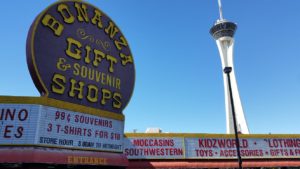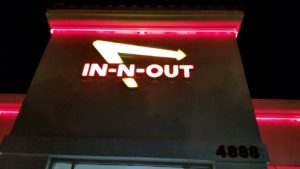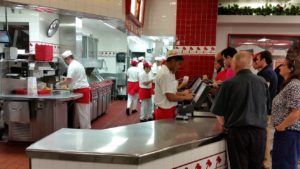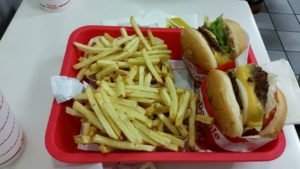 Next stop is Fremont Street! I have wanted to do this since we were here 11 years ago.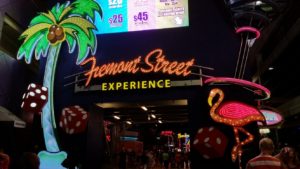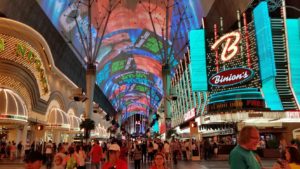 It was an amazing place…so full of music, lights and sounds….at least for most people.  I felt like we had just walked into some Twilight Zone episode.  At first EVERYONE I saw was signing!  I didn't know if this was a special night for the deaf community in Vegas.  It seemed like over 25% of the people we saw were signing.  That was a very cool thing to see.  I wasn't able to catch what they were saying, but it was still so beautiful to watch!
There was an 80s band featured while we were doing various top songs from that time.  One guy looked like he was in Devo….the girl looked like she was in the B-52s.  They were very good!
(If you hit play—then hit pause and let it buffer to the end—then hit play again, the video should play smoothly!)
Overhead at Fremont they have a "barrel vault canopy" 90 feet high and 1500 feet long that encloses the downtown old area of Fremont Street.  While we were there, we saw a Bon Jovi video being displayed overhead…kinda like we saw at Union Station earlier on our trip, but on steroids! 
There was also a zipline going from one end to the other of Fremont with people ziplining over you as you walked checking out the shops.
After we found the praying mantis again and got a picture (no fire), we headed to 'the cowboy' neon sign on Fremont and I got that picture.  Now I am ready to head back to the condo.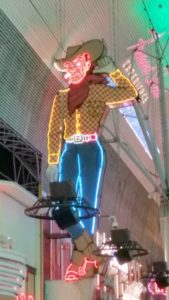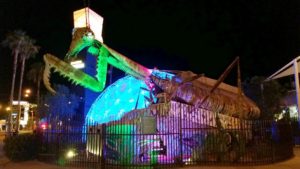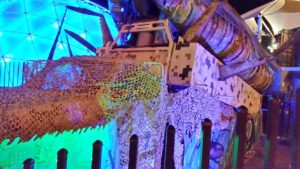 We went into the casino to cut through in air conditioning to get to the parking garage because it is at least 100 degrees even at 11:30 at night.  Found a security guard who escorted us to the stairs to climb to the fourth floor of the parking garage.  Never so thankful to get into the car and turn on my favorite button in the car and feel cool air!
Intending to go back to the condo and crash, we end up packing and finally heading to bed at 2:30am.  The alarm at 7:30 is going to come way too early!