Thursday, July 28
This morning we get everything packed and ready to load up the car.  It is really sad that this is our last day.  I'm not super sad it's the last time we have to load/unload the car though… 
Before we head out, we drive down Bourbon Street since we didn't visit there yesterday.  It was fairly empty people-wise….very run down and just dirty looking.  I was so happy that we hadn't gone on this street the night before and stayed on Decatur Street instead.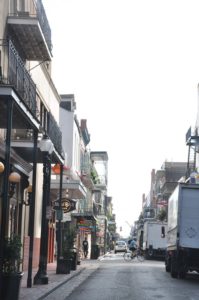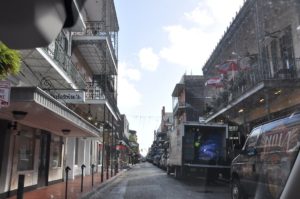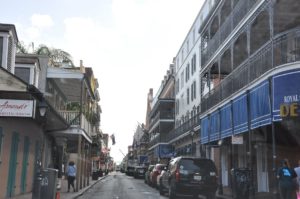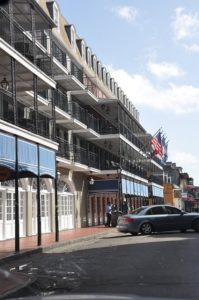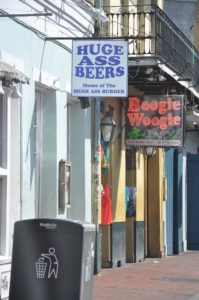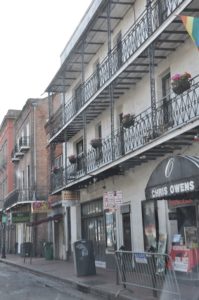 Kim and I say goodbye to New Orleans and head east toward I-10 and Florida.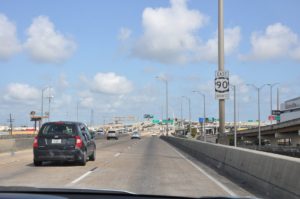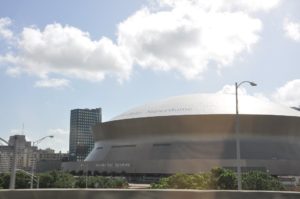 As we are leaving, (On the East Side of New Orleans) we see an IHOP and stop there for breakfast.  Chocolate choc chip pancakes.  Yum…those were good!
This leg of our trip has got to be the longest….it really isn't….but it sure feels like it.  Tim and I switch off driving while the other one snoozes. 
I-10 is just about the most boring Interstate there is. Mobile, Alabama was a nice visual diversion — the USS Alabama would have been tempting, if we hadn't already been there a few years ago.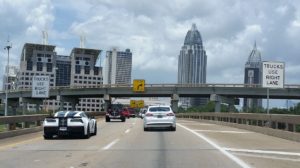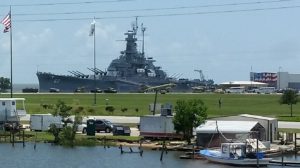 We have decided to go to McGuire's Irish Pub in Pensacola for lunch.  We had been to the one in Destin with Mom and Dad years ago and enjoyed it.  Tim read somewhere that in 2010 they estimated they had 800,000 $1 bills tacked up in this restaurant.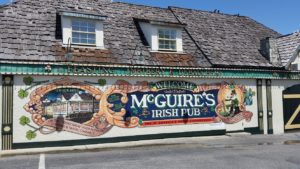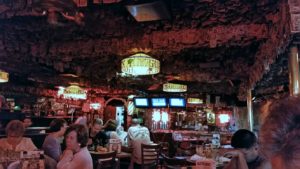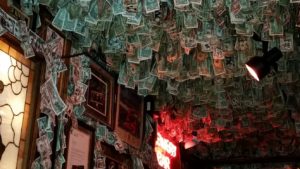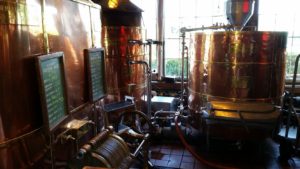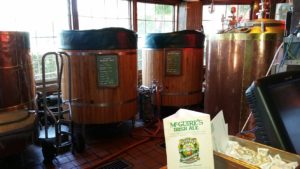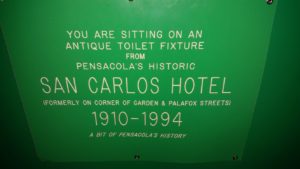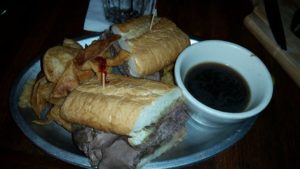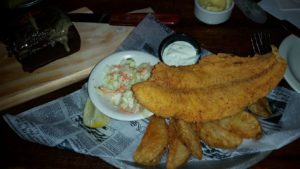 We had a great lunch and headed towards home. 
We knew it would be a late night, because hey…that's just the way we travel!  We aren't stopping for any new adventures or National Parks. 
We still get caught in traffic about 10 miles from where we want to get off I-75 to come home to Inverness.  I bet we sat in traffic for at least 45 minutes.  So very frustrating to have traveled so many miles and not had much real traffic situations until you get about 40 minutes from home!
We finally arrive at home and are greeted by Phil and Jazmine.  I think they both missed us….Jazmine kept running back and forth between Tim and me.  Then we unloaded the car, I think that confused her even more.  We finally sat down in the den and visited with Phil until maybe 2ish.  At this point, we all called it a night….after 8776 miles and 40 days/40 nights….the vacation of a lifetime!
"And they all went home and went to bed."
(told you I would do that, Mom!)