Monday, July 11
We leave Sedona and leave behind a lot of good memories.  We stopped at the Activity Center to check out and hoped to see Robin and tell her bye, but she wasn't there.  Leaving town, we are looking for one of those squashed penny machines we thought we saw shopping in downtown Sedona yesterday.  We can't find it for anything.
So we hit the road, driving those dreaded switchbacks for the last time, and head towards Kingman, AZ to go through the Route 66 museum.  We decide to get lunch at a 50's diner which ends up being across the street from the museum!  We both had chef salads that were wonderful.  There were some wonderful burger, pizza, and onion rings being served around us!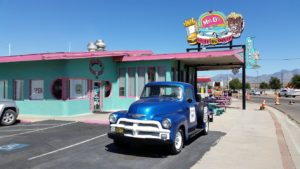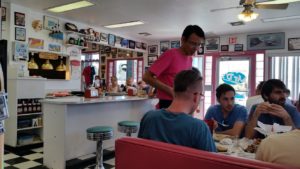 The museum wasn't very large and didn't take too long to go through it.  There was an electric car display at the end of the museum tour that had a lot of vehicles I thought my brother, Mike, would have enjoyed seeing! (The "Buckeye Bullet" electric car pictured below recently set a land speed record for electrics at 370 mph).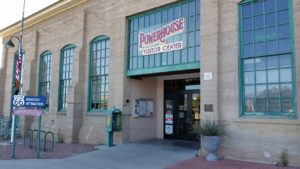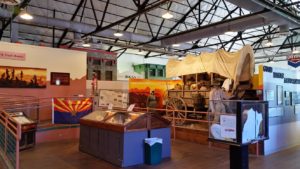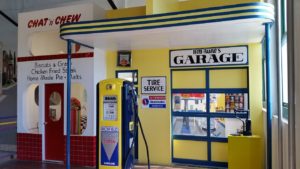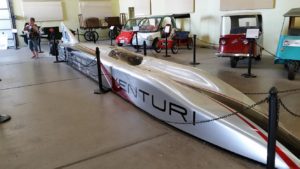 As we were leaving, I happened to ask if they had a squashed penny machine, and they did!  It's so silly to do that, but I did!  Another penny for my collection!
Onward to California!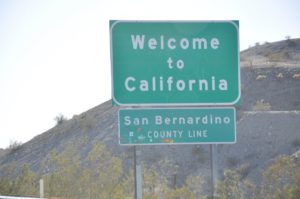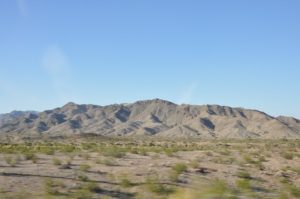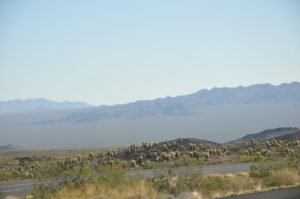 California lies.  They have NO rest areas that are opened on this route.  The welcome centers that are off an exit from this road have disappeared. (Well, mostly they were blocked off and closed). I was not feeling very welcomed or rested from the time we hit California until the end of our journey on I-40 when we found a Popeye's to eat supper. (In Barstow).
I think we finally ended up at the Hampton Inn in Bakersfield around 10:45pm. (We only included Bakersfield as a "whistle stop" on our tour so we didn't have to drive 12 hours from Sedona to Windsor. The hotel was very spacious and comfortable.)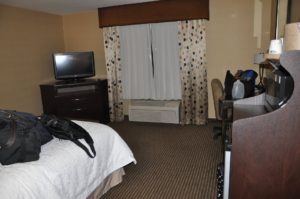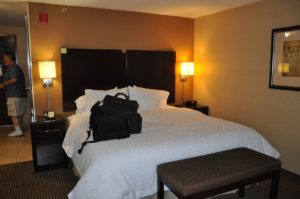 The girl behind the desk was being swamped, but looked at us and said "Happy Anniversary!  Go around to our sweet shop and get you a couple items!"  So we took ice cream sandwiches to the room as an almost midnight snack and then headed to bed.